Address: 710 E. Mullan Ave Coeur d'Alene, ID 83814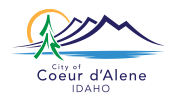 Phone: 208-769-2300
Webpage: www.cdaid.org
Use Coeur d'Alene Police Department Police Online Citizen Reporting System to report the following incidents:
Abandoned Vehicles,
Animal Complaint,
Code Enforcement Violation,
Credit Card Fraud, Crime Tip.
Graffiti,
Harassing Phone Calls,
Hit and Run,
Identity Theft,
Lost Property,
Scam Calls,
Supplemental Report,
Theft, Traffic Concerns,
Vandalism,
Vandalism to Vehicle

Abandon Vehicles: A vehicle left on public property for more than 24 hours. Can include trailers, RVS, and boats. C.C. 10.24.030B. A VIN and/or plate number is required. If this information is not known, please leave a message at 208-769-2320 Option 2 or by e-mailing www.policetips@cdaid.org.
Code Enforcement Violation: Concerns from citizens that affect the quality of life within the city such as weed abatement issues, junk / eyesores, maintenance of structures and property, illegal signs and public nuisances.
Graffiti: The act of painting, writing, or otherwise defacing the property of another without permission. Attach photographs of the depictions. If unable to do so, please call (208) 769-2320 and have an officer respond.