Address: 710 E. Mullan Ave Coeur d'Alene, ID 83814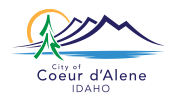 Phone: 208-769-2300
Webpage: www.cdaid.org
For types of reporting
Abandon Vehicles: A vehicle left on public property for more than 24 hours. Can include trailers, RVS, and boats. C.C. 10.24.030B. A VIN and/or plate number is required. If this information is not known, please leave a message at 208-769-2320 Option 2 or by e-mailing policetips@cdaid.org. The form is available here.
Code Enforcement Violation: Concerns from citizens that affect the quality of life within the city such as weed abatement issues, junk / eyesores, maintenance of structures and property, illegal signs and public nuisances. The form is available here.
Graffiti: The act of painting, writing, or otherwise defacing the property of another without permission. Attach photographs of the depictions. If unable to do so, please call (208) 769-2320 and have an officer respond. The form is available here.