ConsumerAffairs.com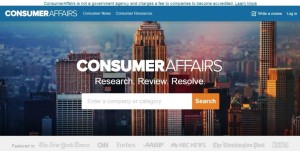 297 Kingsbury Grade, Suite 1025, Mailbox 4470
Lake Tahoe, NV 89449-4470
1-866-773-0221
info@consumeraffairs.com
ConsumerAffairs.com is a private, non-governmental web-based consumer news and resource center. They are not a government agency and not affiliated with any other consumer organization.  See FAQs for more information.
NOTE:  ConsumerAffairs charges a fee to companies to become accredited.
Consumer News  provides articles and posts on consumer issues ranging from Auto Reliability Rating, Bank Failures, Class Action, Deceptive Advertising, Food Safety, Product Recalls, Scams, Sustainability and more.