ConsumerAffairs.com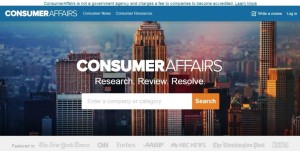 297 Kingsbury Grade
Suite 1025, Mailbox 4470
Lake Tahoe, NV 89449-4470
1-866-773-0221
info@consumeraffairs.com
Write a Review
Consumer News  Consumer News and Topics to Explore provide hundreds of articles and posts on consumer issues including topics ranging from Auto Reliability Rating, Bank Failures, Class Action, Deceptive Advertising, Food Safety, Product Recalls, Scams, Sustainability and more.
Consumer Resources
  There are hundreds, maybe thousands, of agencies and organizations that try to help consumers avoid trouble and, if that doesn't work, resolve problems. Consumer Affairs provides a look at some of the resources in the larger states, and a brief list of federal agencies and national consumer organizations.
See our
FAQ
for more information.
ConsumerAffairs is a private, non-governmental entity that empowers consumers by providing a forum for their complaints and a means to be contacted by lawyers if their complaints have legal merit. Your complaints and reviews may be published, shared with the news media and reviewed by attorneys at no cost to you.  
NOTE:  ConsumerAffairs charges a fee to companies to become accredited.