Address: 2110 Ironwood Parkway, Coeur d'Alene, ID 83814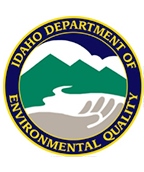 Website: IDEQ Coeur d'Alene Region
Phone: 208-769-1422, toll-free: 877-370-0017
Emergency Hotline: 1.800.632.8000 or 208.846.7610  – Only for urgent pollution incidents like dumping or spills in the state of Idaho. This will activate the emergency response network of state and local authorities
Make a Report: Report an Environmental Concern in Idaho
Idaho Department of Environmental Quality – Our Mission
To protect human health and preserve the quality of Idaho's air, land, and water for use and enjoyment today and in the future.
Overview
DEQ is a state department created by the Idaho Environmental Protection and Health Act (Idaho Code Title 39) to ensure clean air, water, and land in the state and protect Idaho citizens from the adverse health impacts of pollution.
As a regulatory agency, DEQ enforces various state environmental regulations and administers a number of federal environmental protection laws including the Clean Air Act, the Clean Water Act, and the Resource Conservation and Recovery Act. DEQ manages a broad range of activities including:
assessment of environmental problems;
oversight of facilities that generate air, water, and hazardous waste pollution;
monitoring of air and water quality;
cleanup of contaminated sites; and
education, outreach, and technical assistance to businesses, local government agencies, and interested citizens.
The agency is committed to working in partnership with local communities, businesses, and citizens to identify and implement cost-effective environmental solutions.