Website: www.wastormwatercenter.org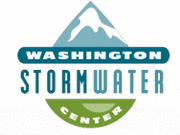 Contact Us
Toll Free: (855) WASTORM
Illegal Discharge Hotline: (509) 477-7525 Report illicit discharges into a gutter or other stormwater drainage system.
The mission of the Washington Stormwater Center is to protect Washington's waters through improvements in stormwater management, serving as the central resource in Washington for integrated National Pollutant Discharge Elimination System (NPDES) education, permit technical assistance, stormwater management and new technology research, development, and evaluation.
We will help you navigate complexities and challenges to realize the rewards of stormwater management. Our staff provides assistance, information resources, and training on stormwater management. Washington Stormwater Center provides a gateway to research, information and new, innovative, and emerging technologies
Eastern Washington Stormwater Resources
Eastern Washington LID Guidance Manual
City Of Spokane Low Impact Development Ordinance
Eastern Washington Stormwater Organizations: Several groups meet and coordinate in Eastern Washington to share ideas and resources for compliance with the Eastern Washington Phase II Municipal Permit.